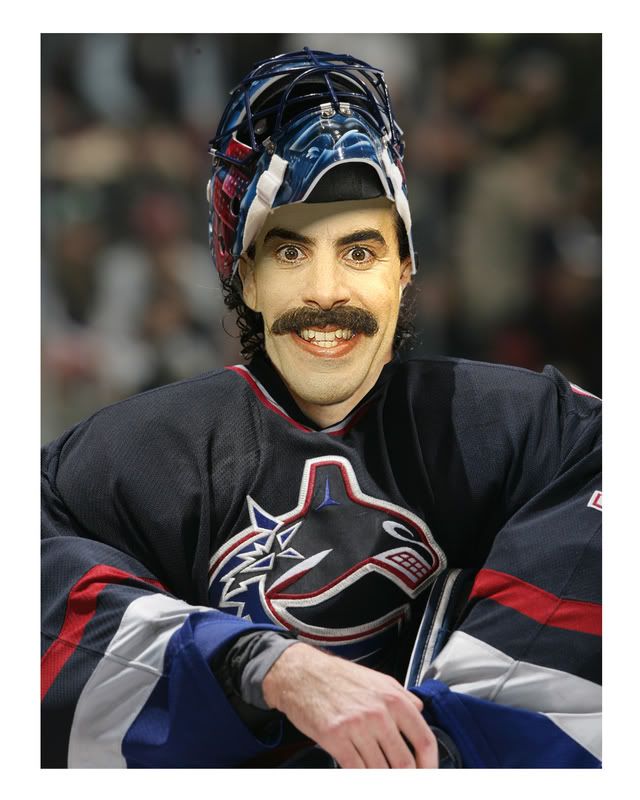 For tonight's preview, I offer what should be some Vegas odds on tonight's game against the Nucks. Quick note: I don't know a whole lot about odds...
Anyways, NOHS' Vegas Odds.

-A member of the Vancouver media skates onto the ice and gets on his knees for Luongo during warm-ups - 2:1

-We eventually find out that a BJ from the media is actually part of Luongo's new contract - 3:1

-Bertuzzi regains his old form, scores three goals, gets a game misconduct and then kills a mother and her two small children - 4:1

-Bertuzzi regains his old form, scores three goals, gets a game misconduct and then kills a mother and her two small children AND regains the admiration of Baroque - 100:1

-Babcock's Death Stare will have the best post-game wrapup (and best header) on the blogosphere - 5:4

-The Chief will both talk about puppies and bitches in his next post - 7:6

-The Chief will talk about strangling those puppies if the Wings lose - 2:1

-The Chief's next post will be at some ridiculous hour like 4:12 AM. - 4:3

-After every Wings goal Brad Watson will rush onto the ice from his hiding space in the Zamboni entrance waving no goal emphatically, even though he is supposed to be reffing in Washington for tonight's game - 3:1

-Tram will comment on the Triple Deke's post game post - 2:1


-I will think it is hilarous that everyone (even Google!) thinks Kyle Welwood is fat - 1:1

-JJ from Kansas will have the best live blog comment and hockeytowntodd will have angryoldman syndrome against Babcock - 4:1

-Maltby will make Samuelsson cry sometime during the game - 3:2

-Osgood will play better than Luongo, yet everyone in the media will still say the Wings goaltending sucks -5:2

-Samuelsson will score for Vancouver -10:1

-Samuelsson will score ON Vancouver - 4:1

-The Sedins will switch jerseys at intermission and not one person will notice - 3:1 (though, this begs the question...how would we know?)

-It will feel like every single Swedish player in the NHL that isn't a cheater (this means you Lundqvist) will be on the ice tonight - 5:2

-Mathieu Schneider will ask Ken Holland for forgiveness for his Judas like betrayal in 2006. Holland will place his hand on his shoulder and relieve Mathieu of all his sins...for he already has been punished; all his skills were taken away from him and he was forced to play for Atlanta. - 20:1

-Helm will be fast as hell - 2:1

-You will realize that the Schneider one really doesn't make a lot of sense - pretty likely.

-Ryan Kesler's real name is "Livonia Native Ryan Kesler" (NHL 09 reference) - 8:1

-Everyone in the world will think that it is stupid that the goalie is the captain - 5:4

-Robert Esche will fume in Russia over the fact that Andrew Raycroft still has a job in the NHL and he doesn't - 2:1

As usual, I'll guess a 4-2 Wings victory.
Go Wings!