That's what the title should have said to last night's game. Philly played just about everyone in this preseason tilt. The Wings played almost noone.
Here's a taste of who the Flyers had dressed...
"Danny" Briere
Carcillo (Ok I know he sucks, but he is a fantasy beast)
Carle
Carter
Gagne
Hartnell
Pronger
Richards
Timonen
Now here's the Wings top players that played...
Lidstrom
Rafalski
So basically, who gives a flying f*** about that game.
But Osgood, please don't let five go in ever again, I don't care if you are playing for Team Jamaica in Mighty Ducks 2 and you are facing Team Iceland and all your team is hurt from the pre-faceoff hipchecks that were thrown, stop the puck five more times than you did and we won't have any problems.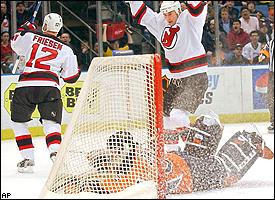 Or we send you back to the Islanders.